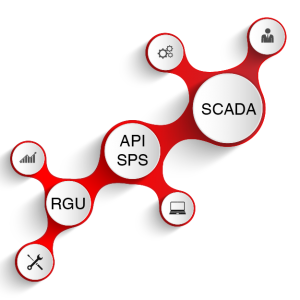 Costronic has developed a large palette of skills. By connecting them coherently together to provide ready to use solutions, convenient oriented and appropriated to each type of project.
We are acting in the following competency fields:
Applied computer science and industrial webs, control systems, SCADA
Automatic engineering and controlling
Adjustment processes, energy management
Electric engineering (schematic, lists, directories …)
Construction- and assembly panels
These project activities are completed with specific competency with high additional value:
Speed adjustments of the hydraulic groups (Pelton, Francis, Kaplan…)
Excitation systems (AVR) for any type of generators
Analysis, calculation and adjustments of the electric protections for any type of generators
Optimizing your units as far as the control system, the hydraulic operating and the global management of your unit is concerned
Automatic Installation Controller (AIC) that enable the possibility to plan the resource of the all power plant.